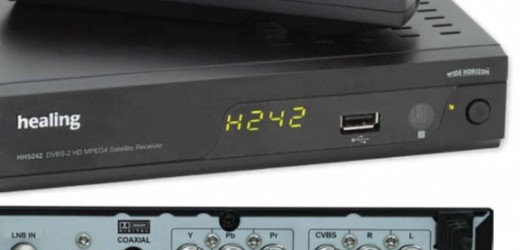 Satellite Receiver Free To Air High Def DVB-S2 Receiver with USB Recorder & Media Player
Features include
All the bells and whistles :  Add a dish, lnb and positioner and hundreds of Free to Air Satellite TV broadcasts can be at your finger tips. DiSEqC equipment control makes it simple.
Blind Scan :  HHS242 finds what is on a new transponder or satellite, quickly. As a result, you can be viewing new channels before most people even know they exist! Scanning the whole satellite and then each transponder with its wide symbol rate range leaves little to chance. A brilliant feature – no need for a transponder list.
USB2 Recorder :  Enjoy the convenience of Recording your favourite TV programs to Playback at your leisure, by connecting a USB storage device to your HHS242. You can even Pause or Rewind live TV via the integrated TimeShift function. Replay Picture and Sound Quality is perfect – absolutely as good as the initial broadcast – creating a new dimension of recording and viewing pleasure.
HHS242 accepts almost any USB storage device, even USB bus powered HDDs function flawlessly.
Better Media Player :  The Media player brings a new dimension of media file playback flexibility – by playing a broad range of movie music and photo file types including: MP3, JPEG, AVI, MKV, DIVX3.11, 4.X, 6.X, FLV, H.264MP, AP@L3, RM and RMVB
NTFS or FAT32 format HDD compatable :  HHS242 accepts either the later and more flexible NTFS or the older FAT32 formatted drives and can reformat to either. No longer are you forced to reformat storage devices to the older FAT32 standard and risk losing existing data. This deceptively simple development improves the user experience whilst removing a weak point apparent in earlier systems.
High Definition Picture Quality :  Experience DVD quality pictures as well as widescreen format. Brilliant picture resolution with a choice of formats including 1080i, 720p, 576p and 576i, when broadcast.
Multiple Video Outputs :  Choice of video outputs includes HDMI, Component and Composite – making for easy installation and use with various televisions and display devices.
Robust Power Supply :  To ensurelong product life, the power supply is a particularly robust design. It is also energy efficient drawing less than .8 of 1 Watt on Standby.
Small footprint :  The small cabinet conceals a full featured receiver that includes a very broad range of features.